The function of disposable medical protective clothing is to produce a bacterial barrier layer to prevent bacterial migration and reduce cross-infection. In recent years, some scientific research units and enterprises have developed a lot of medical protective clothing, most of which are made of non-woven fabrics. Medical protective clothing can be divided into woven, non-woven and composite materials according to the organizational structure of the fabric; according to the service life, it can be divided into disposable type (one-time use), limited-time type and reusable type; It is said that there are three types of methods: finishing, coating and lamination.
Disposable medical protective clothing has different properties due to the different raw materials used. The non-woven materials used in several medical protective clothing currently being sold and developed in the domestic market mainly include the following.
Polypropylene spunbond cloth Polypropylene spunbond cloth can be treated with antibacterial and antistatic to make antibacterial protective clothing, antistatic protective clothing, etc. Compared with traditional cotton protective clothing, polypropylene spunbond protective clothing is undoubtedly a big improvement. Because of its low price and one-time use, it can greatly reduce the cross-infection rate. However, the anti-hydrostatic pressure of the material is relatively low, and the blocking efficiency of virus particles is relatively poor, so it can only be used as general protective equipment such as sterile surgical gowns and sterile wraps.
Polyester fiber and wood pulp composite spunlace cloth is a better material for medical protective clothing. However, its anti-hydrostatic pressure is also relatively low, and its blocking efficiency against virus particles is also relatively poor, so it is not an ideal protective clothing material.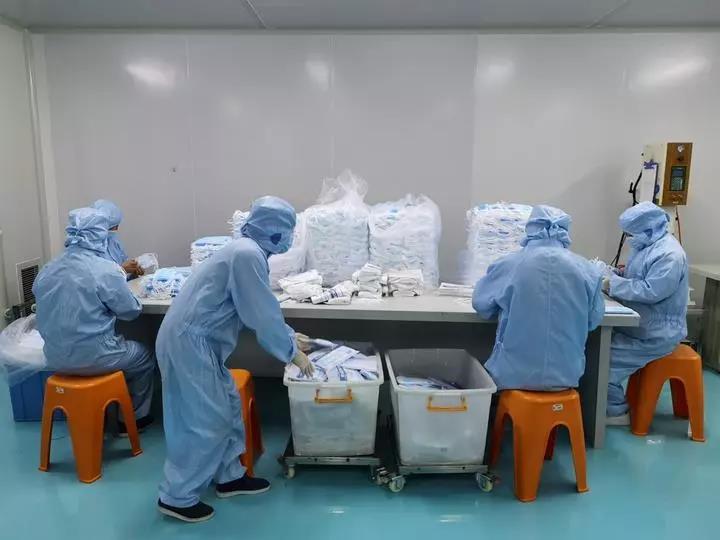 Disposable medical protective clothing polypropylene spunbond-meltblown-spunbond composite non-woven fabric, namely SMS or SMMS meltblown fabric is characterized by thin fiber diameter, large specific surface area, fluffy, soft, good drapability, low filtration resistance, The filtration efficiency is high and the hydrostatic pressure resistance is strong, but the strength is low and the wear resistance is poor, which limits the development of its application field to a considerable extent. The spunbond fiber has a higher linear density, and the fiber web is composed of continuous filaments. Its breaking strength and elongation are much larger than those of meltblown cloth. Disposable medical protective clothing can just make up for the shortcomings of meltblown cloth. This material has the following excellent properties:
① Uniform and beautiful appearance;
② High resistance to hydrostatic pressure;
③ Soft feel;
④ good air permeability;
⑤ Good filtering effect;
⑥ Strong acid and alkali resistance.
In addition, SMS nonwovens can also be treated with three antibodies (anti-alcohol, anti-blood, anti-oil), anti-static, anti-bacterial, anti-aging, etc. to meet the needs of different uses.
There are many types of polymer coating fabrics used for protective fabrics, including polyvinyl chloride, polyethylene, polychloroprene rubber and various other synthetic rubbers. , It can be reused, but the moisture permeability is poor, a large amount of sweat from the human body cannot be discharged, and the wearing comfort is poor. During the SARS period, the use of rubber-coated fabric protective clothing is really a last resort. The progress at home and abroad is the use of microporous PTFE film and fabric composite to obtain waterproof and breathable functions, but it is expensive as a disposable product.
Polyethylene breathable film/non-woven composite fabrics have different non-woven fabrics and films according to the requirements of different protection levels. Polyethylene breathable film/non-woven fabric composite material has excellent effect on blocking bacterial particle penetration and liquid penetration, and the hand feel can be adjusted by changing the softness of the composite fabric. It has strong tensile strength, good air permeability and comfortable performance. It is greatly improved, can withstand disinfection treatment, does not contain toxic components, weighs 60~100g/m2, and has good cost performance. to effective protection.